Da jeg bor midlertidigt i en lejlighed i København, er de fleste af mine scrapbooking materialer opmagasineret. Jeg har dog scoret mig et par hylder og et bord i lejligheden, så lidt kreativ tid bliver det til.
For at holde pladsmængden nede, er et af de albums jeg arbejder med, et Snap album. Oprindeligt ville jeg have brugt et Smash, en jeg har en forkærlighed for plastik lommer. Hvilket måske også er derfor jeg faldt fuldstændigt for Fuse Tool fra WR Memory Keepers.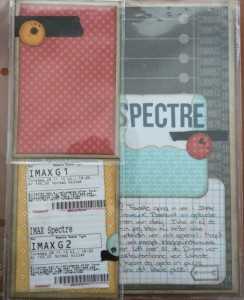 Til dagens layout har jeg lavet to ekstra lommer. På den måde bliver siden lidt mere 'interaktiv' og jeg kan få plads til mere. Det er ikke ret svært, og jeg er begejstret for ideen med jeg kan lave lommer i de størrelser og former jeg har brug for. Bestemt ikke sidste gang der leges med det.
Min fremgangsmåde til hele layoutet er i videoen her. Jeg beklager den lidt kornede kvalitet, men det var enten det eller dårlig belysning. Der kommer ikke ret meget naturligt lys ind i lokalet.
Tak fordi du kiggede med.
/Lina