Så er det tid til mit sidste Gelatos indlæg i denne omgang 🙂 de to sidste kort dækker over hver sin teknik.
Det første kort er lavet med almindelig embossigfolder i bigshotten. Herefter har jeg påført tre-fire farver rundt på motivet, og har med en vådserviet arbejdet farven ud – husk som altid at skifte til nye rene områder af servietten når du skifter farve.  Mere skal der ikke til for at skabe en fin marmorering.
Næste kort var rigtig sjovt at lave, her startede jeg som beskrevet i tidligere indlæg med at lave en masse små pletter i tre forskellige farver, turkis, grøn og pink. De blev arbejdet sammen som beskrevet ovenfor. Herefter tog jeg en ordentlig portion beaded gel og påførte det over hele stykket så det var dækket. Da det tørrede havde jeg en fin blank overflade. Herefter tog jeg to retro flower punches og udstansede tre blomster rundt på kortet. derefter udstansede jeg 4 hvide af de små og 2 hvide af de store. Disse blev limet bagpå den farvede blomst og agerede på den måde som en form for 3d puder men som fyldte hele blomsten ud. Baggrundsstykket med de tre udstansede huller blev monteret på et kort og herefter limede jeg de tykke blomster på – præcist som de sad før så farverne på blomsterne går i et med farverne på baggrunden. Det gør at blomsterne træder frem men alligevel går i et med baggrunden, en sjov effekt syntes jeg.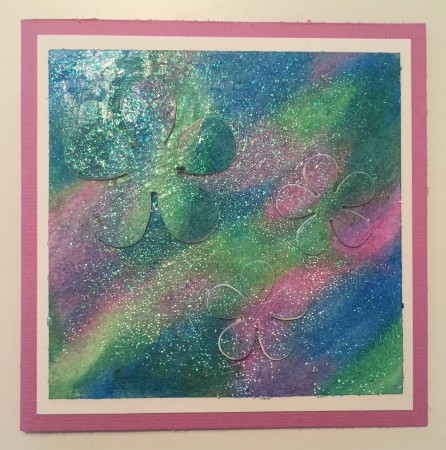 Tak fordi du kiggede med,
Gitte O – aka Godtesen
[bloginn id="0.1461044603111″]