Disse to helt enkle restekort er lavet med papir fra Piatek 13.
De laver så mange skønne serier, og denne her hedder Cute & Co.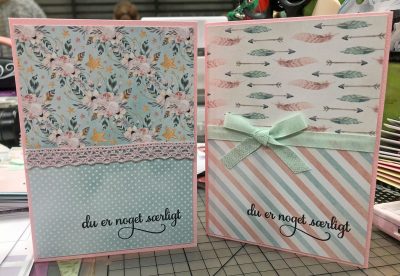 Jeg har brugt to forskellige mønsterpapirer til hvert kort.
Den lyserøde kortbase er i almindelig A6-størrelse.
Teksten er stemplet med et af mine egne stempler fra sættet Smil! og jeg har stemplet direkte på det nederste stykke mønsterpapir.
Det kan man sagtens gøre, hvis der er tale om lyse, rolige motiver, hvor den sorte tekst stadig kan komme til at stå frem.
Sløjfen er lavet med lidt "snyd".
Jeg har først sat bånd ovenpå sammenføjningen mellem de to mønsterpapirer.
Jeg har lavet båndet et stykke større end papiret, så jeg lige kan bukke det om på bagsiden og dermed få en pæn kant.
Selve krøllen på sløjfen er lavet med et løst stykke bånd, hvor jeg laver to løkker og binder dem sammen med en knude.
Herefter har jeg limet den ovenpå båndkanten.