Tekst dies med skygge kan næsten få mig til at savle indimellem. Da jeg så denne tekst die Layered Love fra The Stamp Market, måtte jeg bare have den. Der er nogle font typer som bare er mega lækre. Jo, selvfølgelig er det forskelligt fra smag til smag, hvilke font typer som kan få ens hjerte til at banke ekstra. Men hold da op, hvor kan ens kreative hjerte savle over noget indimellem. Eller er det mon kun mig?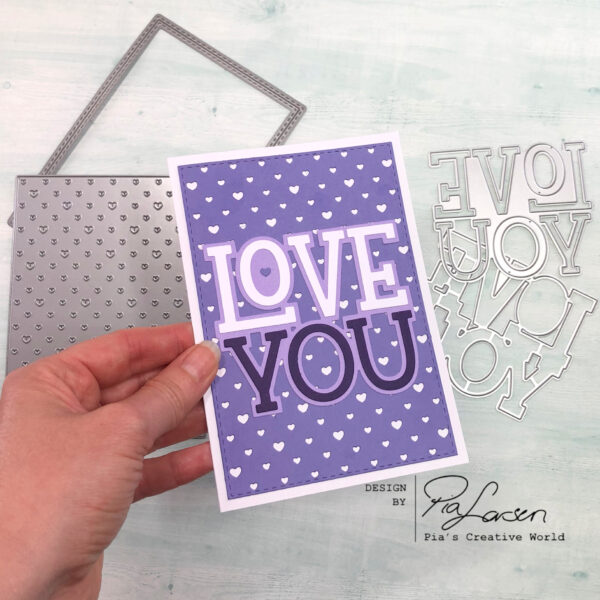 Jeg laver rigtig mange love kort i løbet af året. Ligesom med julekort bliver man bare i godt i humør af at lave dem. Fordi man ved at det vil bringe stor glæde hos modtageren.
Mine to kort i dag er bevidst holdt i hver deres farvegruppe. Nogen gange kan man skabe ekstra ro på kortet, hvis man holder sig til én farve. Dog kan man give den gas med de forskellige toner indenfor den farve.
Til baggrunden har jeg brugt Lawn Fawn Polka Heart Backdrop die. Denne baggrunds die fås både vertikal og horisontal. Jeg laver flest vertikale kort, hvorfor jeg har valgt at købe den.
Den store tekst die fra The Stamp Market hedder Layered Love.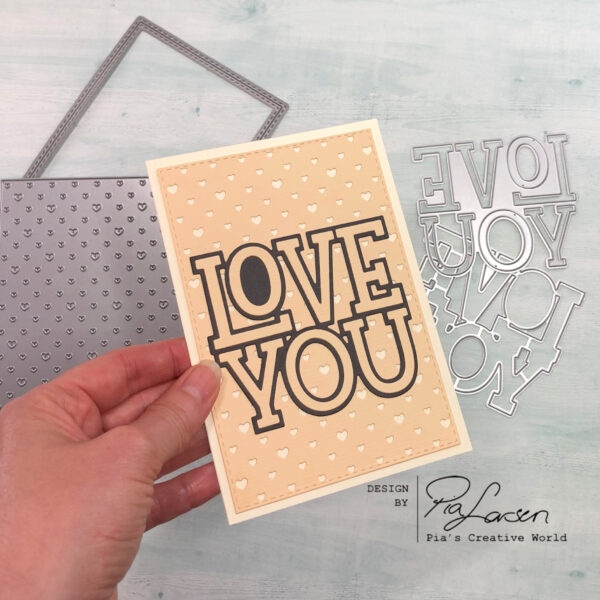 På mit peach kort har jeg valgt at give teksten en sort skygge. Dette får teksten til virkelig at træde frem på kortet.
Kreative hilsner,
Pia