Sidste år udgav Mama Elephant et stempel og die sæt med søde Boba Tea motiver, samt et stand alone die sæt der kunne laves shaker kort af. Jeg har længe haft ideen om at lave en halloween udgave med shaker die sættet og nu fik jeg endelig gjort det til virkelighed.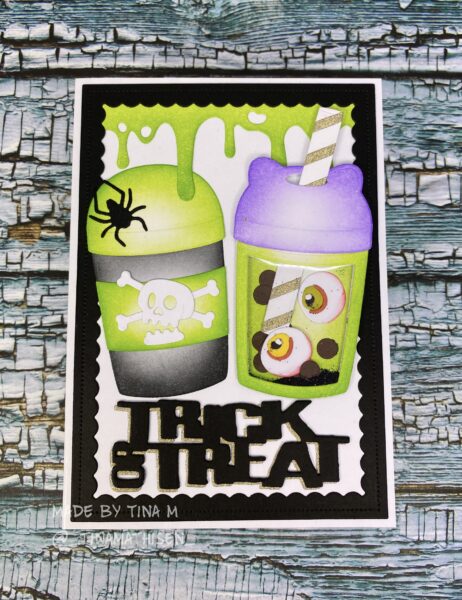 Så her er det i alt sin gru 🙂 Med grønt slim og øjne i shaker-delen af kortet.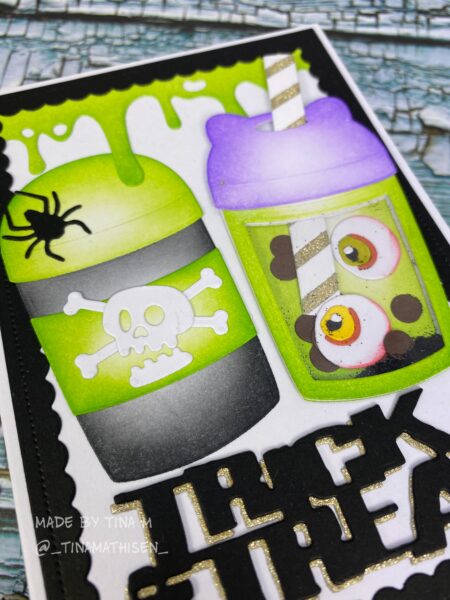 Jeg har brugt Boba Shaker Combo die sættet fra Mama Elephant og tilsat en smule halloween by Tim Holtz. Øjne, edderkop og kranie er fra sættet "Frightful Things", slimen er "Drip Edge" og teksten er fra "Trick or Treat". Rammen om det hele er fra Simple and Basic SBD104 "Rectangle with Inlay".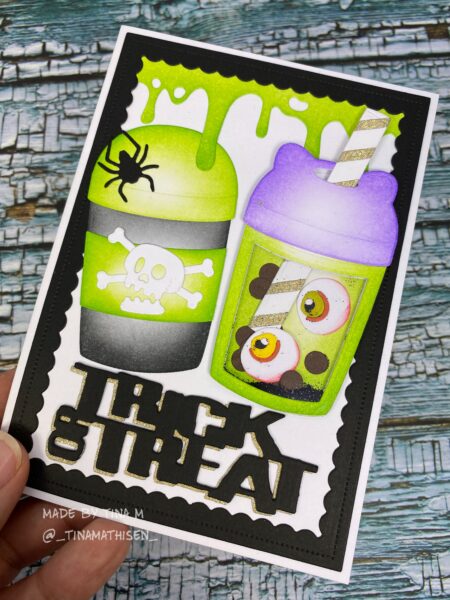 Alle mine farvede die-cuts er sværtet med Distress Ink i farverne "Twisted Citron", "Mowed Lawn", "Wilted Violet", "Hickory Smoke" og "Black Soot". Det var faktisk ret sjovt at lave – selvom øjnene er noget pilleri at samle – og jeg tænker, man snildt kunne lave en lignende udgave blot med edderkopper eller måske knogler i glasset i stedet.
Mange tak fordi du kiggede med 🙂
Mange hilsner fra Tina M.