Jeg har en del korbaser i A6 topfold liggende, og denne gang udnyttede jeg faconen til at få lavet et lidt anderledes foldet kort. Først er det foldet helt traditionelt i A6, derefter er den ene side foldet endnu en gang, ikke helt på midten for jeg ville gerne at mønsterpapiret lige tittede frem nedenunder. Jeg har så lavet en matte til alle 3 lag der er ca en halv cm mindre på hver side så den fik den fine hvide kant. Alle stykker er blevet sværtet i kanten med distress ink.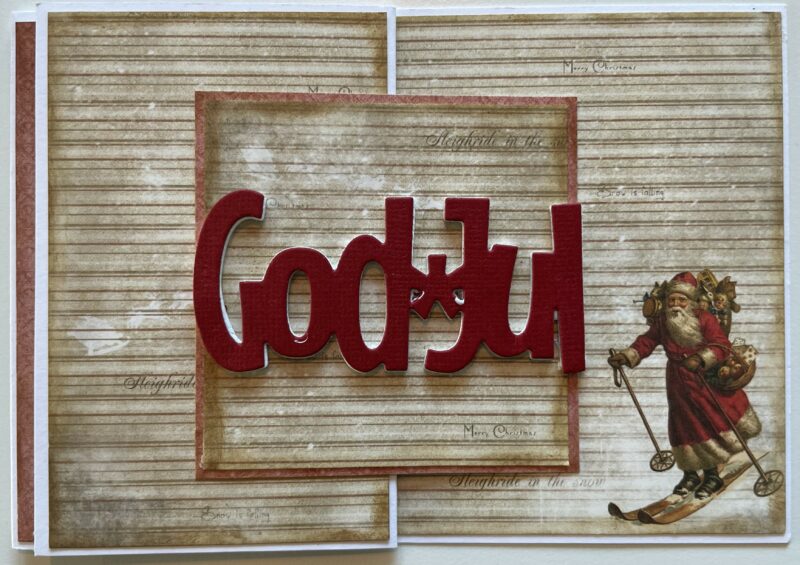 Herefter fandt jeg Gittes kvadratiske dies frem, og lavede to forskellige størrelser i to forskellige slags mønsterpapir, sværtede og monterede på midten af øverste side.
Og sidst men ikke mindst, den lækre GodJul die, denne gang skåret i rød karton samt i hvid mosgummi for at give dimension.
Min tanke har været at du skriver din julehilsen på det hvide stykke der er synligt på billedet nedenfor, så er teksten skjult indtil du åbner op. Men skal du have den store hilsen på kan du selvfølgelig bare vælge noget lidt mere skrivevenligt papir end det jeg har valgt her 🙂
Tak fordi du kiggede med,
Gitte O