Denne skønne die er fra Lawn Fawn og er lidt sjov at lege med.
På grund af de mange smalle, lige linjer, så kan den godt være lidt drilsk og kræve flere ture gennem maskinen – især hvis du bruger metal- eller glimmerkarton.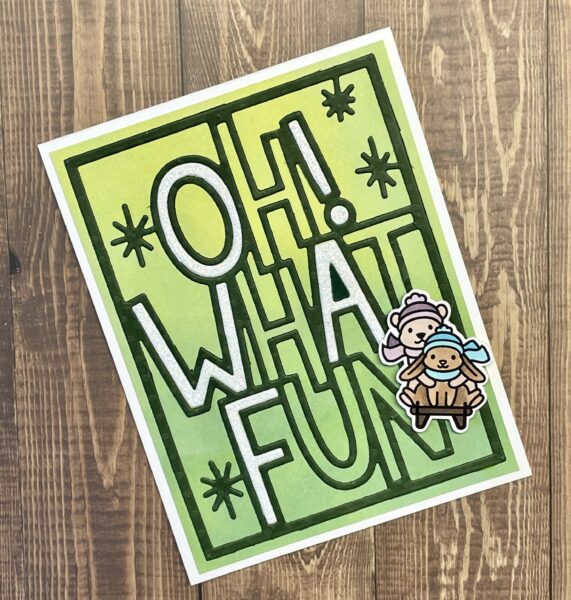 Det var egentlig meningen, at der skulle have været hvid glimmerkarton i alle bogstaverne, men udskæringen drillede, og så ændrede jeg planerne til kun at gøre det med enkelte af dem i stedet.
Den tofarvede grønne baggrund er lavet med sværte på hvid karton.
Så vidt jeg husker, så brugte jeg en Twisted Citron øverst og en Mowed Lawn nederst, og så blendede jeg dem godt sammen på midten.
Jeg skar teksten i to omgange – hhv. i grøn karton og i det hvide glimmerkarton.
Herefter limede jeg den grønne tekst (uden delene indeni bogstaverne) på baggrunden, og bagefter limede jeg så enkelte af de de hvide udskæringer indeni de grønne bogstaver.
De to små kælkende dyr er stemplet på Neenah-karton og bagefter farvelagt med TriBlend Brush Markers.