Som den ene make&take til Convention, lavede jeg dette kort.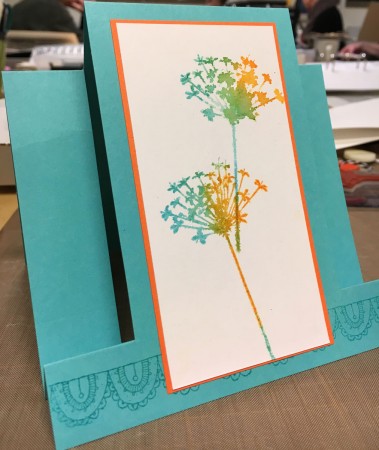 Motivet er stemplet med den sjove vandfarveteknik, hvor man først dupper farve på i to forskellige farver Distress Inks, og bagefter pister vand på med en mister (lille vandforstøver).
Herefter trykkes motivet ned på akvarelpapir. På den måde flyder farverne lidt ud, så det minder om et motiv malet med akvarelfarver.
Resultatet bliver bedst, hvis du vælger to farver, som blander godt indbyrdes som her. Hvis du vælger to modsatrttede farver, som f.eks. rød og grøn, så vil overlappene blive mudrede (farvelade-vands-farvede).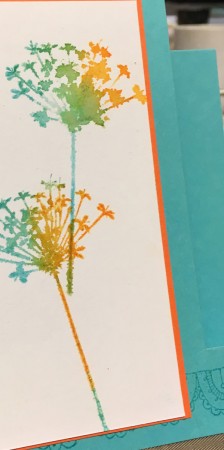 Til sidst er motivet monteret på et kort i samme farve som den ene Distres farve (turkis) og med en "matte" under motivet i den anden farve, som herved giver en flot kontrast.
Både dild-kronerne og den supersøde blondebort, der er stemplet forneden på selve kortet, er fra Impression Obsession.
[bloginn id="0.1459756047261″]