I dag er det d. 14. februar – Valentinsdag, og selv om jeg ikke gør meget ud af at fejre dagen, så har jeg alligevel lavet endnu et valentinskort.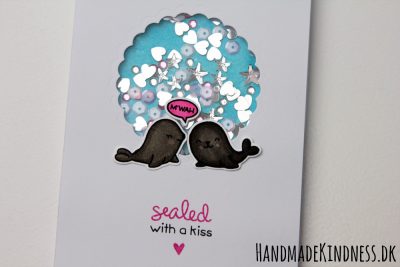 Denne gang er det de to små søde sæler fra Sealed with a Kiss fra Lawn Fawn jeg har brugt. Jeg har holdt kortet simpelt for at give plads til shaker-delen, der godt kan "støje" en del.
Shakeren er fyldt med konfetti og pailletter, og baggrunden er farvelagt med Distress Ink.
Jeg øver mig stadig i, hvor meget og hvor lidt der skal i sådan en shaker. Jeg troede, jeg havde fyldt den godt op, men det faldt alligevel mere sammen end jeg lige regnede med, da kortet var færdigt.