Konfirmationstiden står for døren og derfor er det også tid til konfirmationskort.
Sidste år var jeg så heldig at få lov at lave en del bestillingskort. Jeg kan rigtig godt lide at lave bestillingskort, fordi det giver mulighed for at gøre kortet personligt.
Til et af kortene var der ønske om at konfirmandens billede kom med på kortet – og sådan en udfordring er rigtig spændende. Samtidig måtte kortet gerne have en størrelse hvor der kunne ligge kontanter i kortet.
Jeg valgte derfor et aflangt kort med hvid base, ovenpå et stykke mønsterpapir i rosa farver. Der er sat to stykker bånd på langs af kortet og i højre side er konfirmandens billede sat sammen med forskelligt pynt, hendes navn og datoen for konfirmationen (og ja – det var sidste år)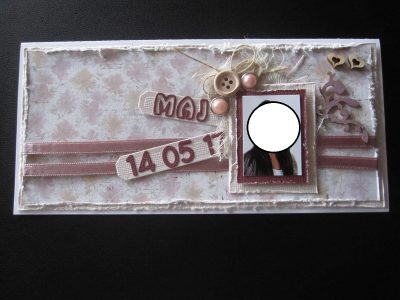 Som pynt er brugt en træperle, ostelærred, twine og et par brads med store lyserøde perler.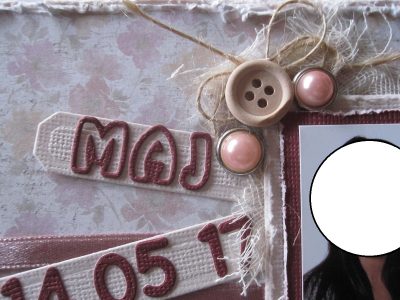 Jeg er ret vild med det alfabetet fra Nellie Snellen, jeg har brugt til MAJ. Det er lidt anderledes og jeg kan godt lide effekten det giver med udskæringen af midten af bogstaverne. Tallene er også lavet med et diesæt fra Nellie Snellen.