Dette konfirmationskort er lavet med to af mine – i øjeblikket – favoritdies.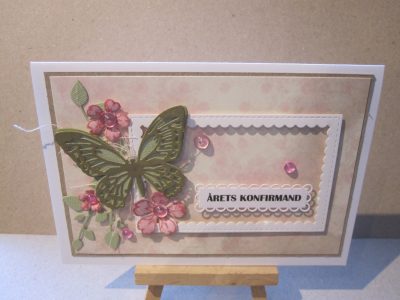 Kortet er lavet med en hvid base, et stykke kvistkarton og et stykke mønsterpapir.
Derudover er skåret en ramme i hvidt karton – med dette skønne diesæt. Det jeg rigtig godt kan lide ved dette sætte er detaljerne. Der er en "stitch" rundt i kanten af rammen og den indvendige kant på rammen får en buet/scallup kant. Det synes jeg giver en virkelig flot effekt. Rammen er sæt på kortet med 3D-puder for at give ekstra effekt til kortet.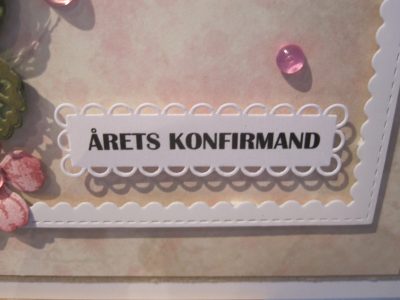 Teksten er printet ud og efterfølgende skåret ud med en die fra dette sæt fra CREAlies. Dien laver en meget sød hulkant rundt om tekstfeltet.  Der findes tilsvarende diesæt i cirkler, ovaler og kvadrater og helt ærligt, jeg synes det er rigtig svært at vælge hvilken figur der er mest anvendelig, for jeg synes virkelig det er en skøn die.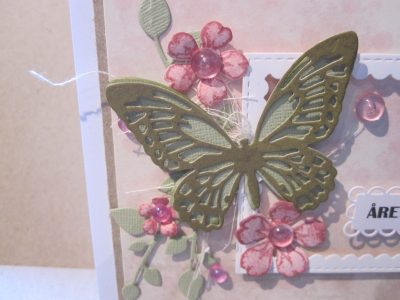 Som pynt på kortet er udstanset en sommerfugl i to lagt og der er brugt grene, blomster, halvperler og lidt ostelærred.