Selv om det ikke er forår endnu (det var stadig vinter, da dette indlæg blev skrevet, red.), kan man godt trænge til sol og varme og lyse tider – og hvad siger det bedre end lyse farver og smukke blomster. Jeg har derfor lavet 4 kort, som jeg synes "dufter" af forår.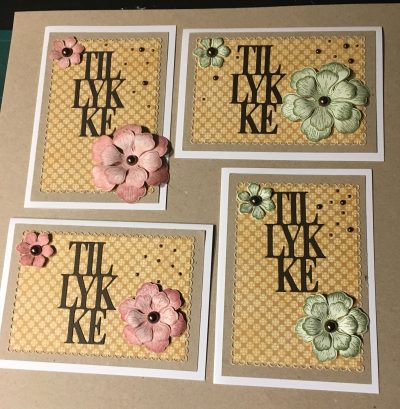 Til disse 4  kort har jeg selv lavet blomsterne med et af de lækre stempel/die-sæt fra Heartfelt creations. Jeg har lavet dem både i lyserød og i lysegrøn. Der er stemplet på farvet karton med en sværte i koordinerende farve. Jeg er vild med at kunne lave blomsterne i præcis den nuance jeg skal bruge det det enkelte kort og så er jeg glad for de tilhørende dies – jeg er ikke ret god med en saks.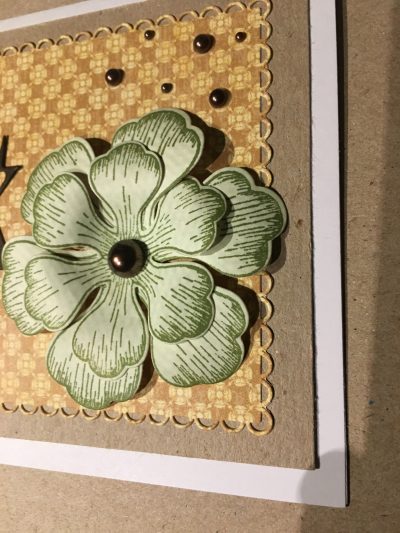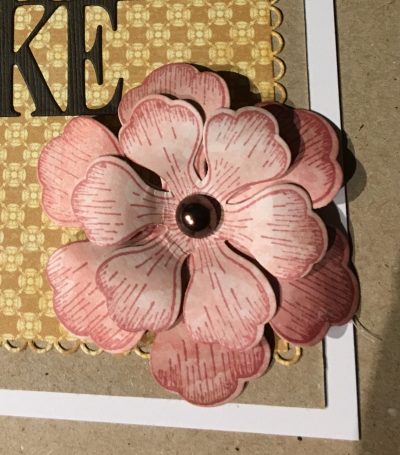 Selve kortet er lavet på en hvid base, der er brugt et stykke kvistkarton og et stykke mønsterpapir. Mønsterpapiret er skåret ud med en die, der lavet en lille "blondekant".
Der er skåret en tekst ud i brunt ensfarvet karton – TILLYKKE –  og der er pyntet med brune halvperler i forskellige størrelser. To er kortene er lavet vandret og to lodret.
Så kan det godt blive forår 😉