Vi har været til fødselsdag ved min mands store dreng, som fyldte 22 år. Han ønskede sig ikke ret mange ting, og det han ønskede sig var meget specifikt og svært for os at købe pga. størrelser og mærker osv.
Men på ønskesedlen var et par helt hvide sneakers – så dem besluttede vi at han skulle have penge til og så måtte jeg jo i gang med at lave et kort – en slags gavekort.
Resultatet blev dette kort: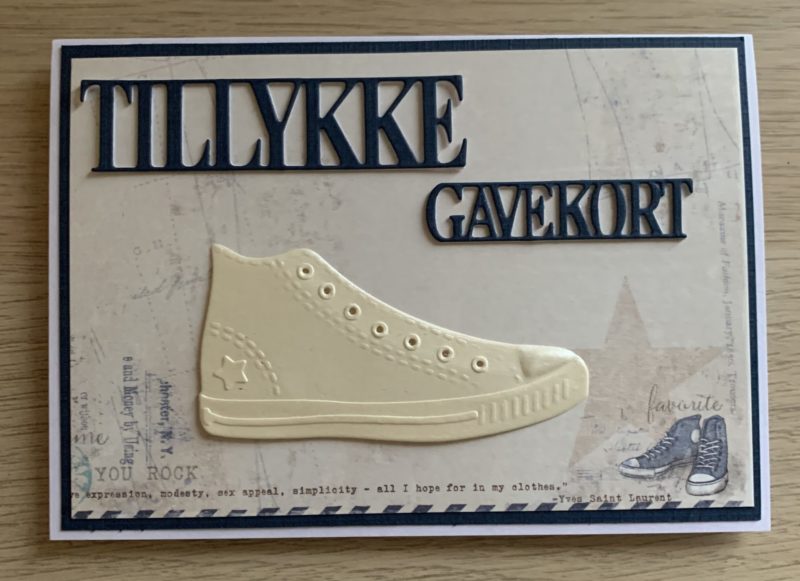 Det var jo helt oplagt at bruge papiret fra Maja Designs serie Denim and Friends i kombination med den søde sneakers die fra Joy.
Basen til kortet er hvidt karton, størrelse 10*15. Ovenpå basen er sat et stykke ensfarvet mærkeblå karton og et stykke mønsterpapir.
Skoen er skåret ud i cremefarvet Majestic papir – jeg er blevet helt vild med det papir og har det efterhånden i en del farver. Jeg synes det giver en flot glitter effekt – uden at det bliver alt for blankt.
Derudover er der skåret teksterne GAVEKORT og TILLYKKE i den samme mørkeblå karton som er brugt ovenpå basen. Teksterne er også skåret ud i hvidt mosgummi, som de blå tekster er sat ovenpå. Det giver en flot effekt og lidt dimension til kortet.
Hurtigt og nemt kort – som bestemt faldt i god jord ved modtager.
Detaljer: