I forbindelse med en flytning har jeg fået nogle gamle rester og halvfærdige produkter fundet frem. Dem har jeg haft gang i her. Udgangspunktet var den embossede baggrund, som er lavet ved at spraye med distress oxides inden i en embossing folder inden det blev kørt igennem Bigshot. Jeg elsker den effekt det giver. Mit bud er at det er farverne Frayed Burlap og Ground Espresso, som jeg har brugt her.
Det første pynt jeg fandt til baggrunden var den store lyse blomst. Den ville jeg virkelig gerne have til at være omdrejningspunktet. Cirklerne fandt jeg for ligesom at have noget, at bygge min dekoration op omkring, så de blev monteret først og så den store lyse blomst på to halvstore 3D puder, så den kom godt op og åbnede op for at der kunne puttes ting ind under, for at skabe en fyldig dekoration, som var det, jeg gik efter her.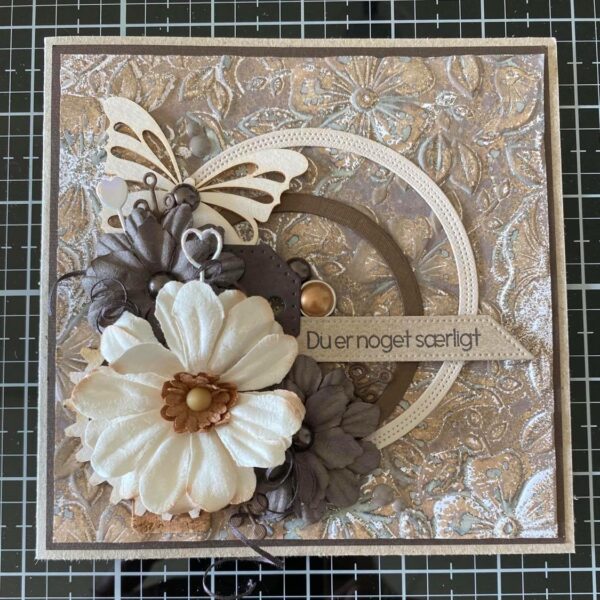 De to brune blomster, som også blev fundet i en restekasse blev også poppet op på en 3D pude, så der stadig var mulighed for at putte ting ind under dem også. Så egentlig arbejdede jeg meget oppe fra og ned mod kortet ved hele tiden at putte ting ind under for at løfte dekorationen. Håber det giver mening.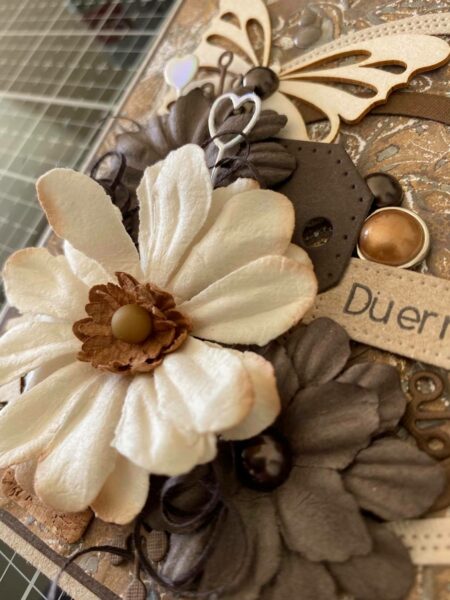 Der blev også puttet lidt træpynt og lasercuts ind og nogle små tags, som jeg også havde liggende. Og til slut en tekst skåret med Simple and Basic banners og et par hjerte decorative branches også fra Simple and Basic.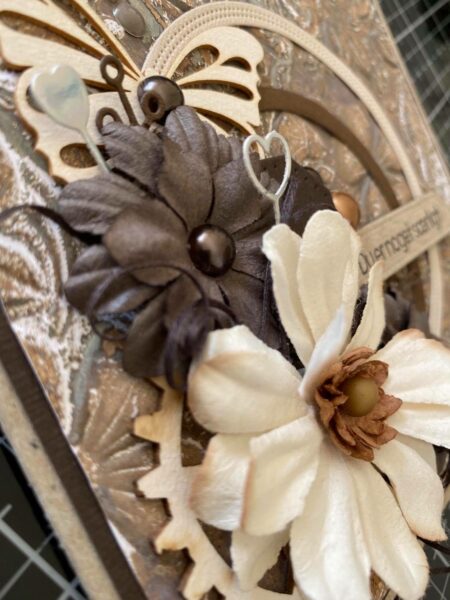 Jeg synes det var en fed måde at arbejde med lag på og jeg er super tilfreds med resultatet. Der var en masse med farverne og opbygningen og de ting jeg lige tilfældigt fik fundet, som gik op i en højere enhed.
Her lige et kig ned fra oven, hvor man måske kan få en ide om lagene.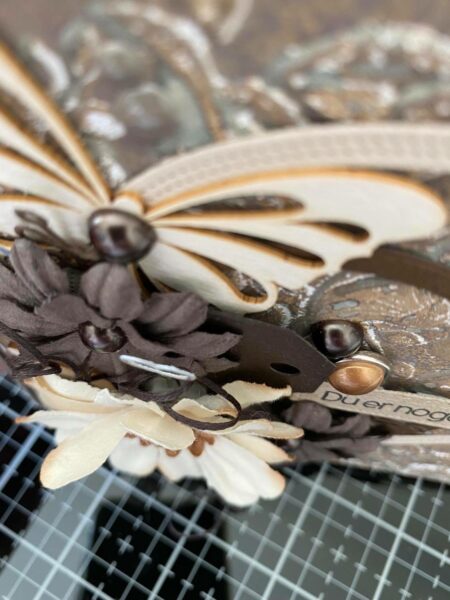 Tak fordi du kiggede med.
Karina