Jeg er vild med ideen om at farvelægge et motiv via en stencil i flere lag og her til temaet monokrom, var det jo oplagt at lave et kort med de lækre farvelægnings stencils fra PinkFresh Studios. Jeg har valgt at bruge farven turkis i flere nuancer. Elsker turkis som, med et ben i hver lejr, har de skønneste blågrønne toner.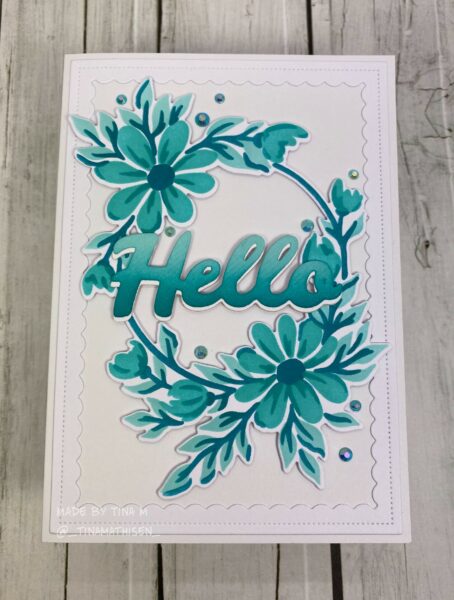 Jeg har valgt at bruge det skønne stencil sæt "Daisy Wreath", som også kommer med dies til, så motivet kan stanses ud. Og den passer lige præcis på et standart EU A6 kort. Den fine ramme omkring det hele kommer fra Simple and Basic "Rectangle with inlay".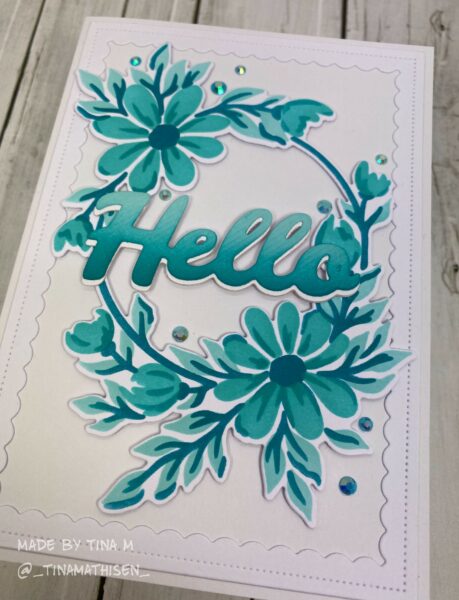 "Hello" er fra Spellbinders "Bold Type Hello". Sættet består af to dies – ordet hello og en skygge dertil – men de kan faktisk også bruges hver for sig. I skyggen bliver der præget fine riller i for at give lidt struktur i baggrunden, men her har jeg valgt at bruge den alene, da jeg syntes, rillerne gav et lille løft og fremhævede "Hello" lidt bedre, når nu alt holdes i samme farvenuance.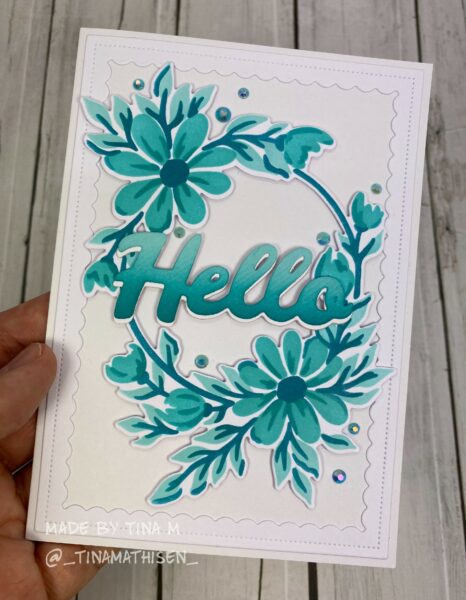 Jeg har blot brugt tre sværter fra Gina K, nemlig farverne: "Sea Glass ", "Turquoise Sea" og "Tranquil Teal" – tre skønne nuancer af turkis – til at farvelægge både motivet og teksten. Og så var jeg super heldig at have lidt bling i gemmerne, der matchede.
Tak fordi du kiggede med hertil.
Mange hilsner fra Tina M.
¤Instagram: _tinamathisen_