Nogle sværter en himmel, men hvorfor ikke lave en stribet blå himmel ud af rester. Det giver et spændende grafisk spil på kortet, når Hero Arts Airplane for lov til at flyve højt til himmels blandt hvide skyer.

Jeg fik igennem mine rester, som jeg på mystisk vis bliver ved med at have mange af. Det er næsten til at grine over 🙂
Jeg fik lavet mig en god kombination af blå nuancer og hev min Waffle Flower "Vertical Stripes Die" frem. Den er exeptionel til at skabe fine ens strimler og pssst…den er på tilbud lige nu e webshoppen.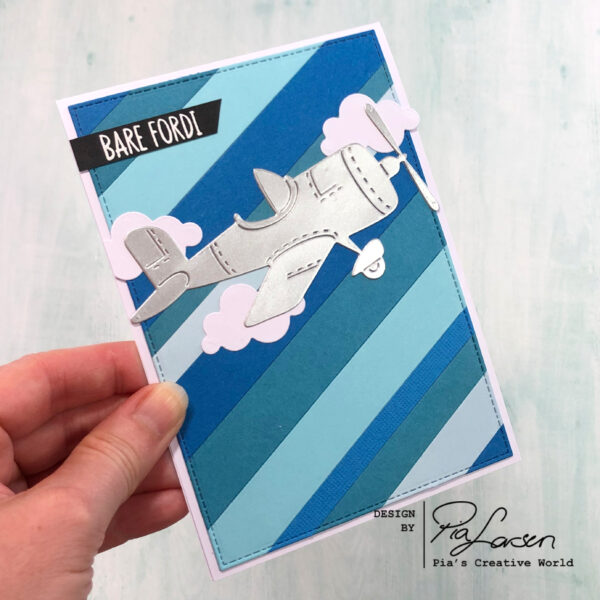 På min baggrund valgte jeg at benytte nogle gamle restestrimler fra tidligere projekter, så jeg fik et spændende spil i det grafisk mønster.
Da Hero Arts Airplane die kom i webshoppen måtte jeg bare eje den. Den er SÅ fin med sine diecut detaljer!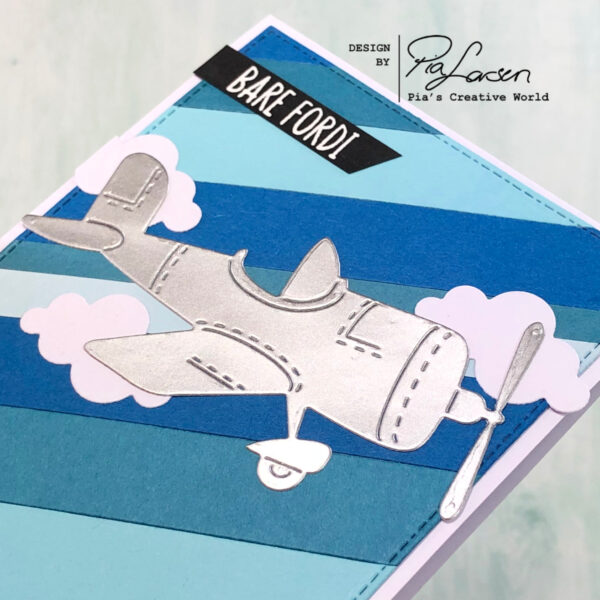 Jeg tilføjede lidt skyer, som er fra GummiApan.
Da kortet var færdigt stod jeg tilbage med nok strimler til endnu et kort, så I får her dagens bonus kort.
Her har jeg ladet baggrunden være skabt kun med Waffle Flowers Vertical Stripes Die. Jeg har brugt Gittes Eget Design "Mega Blokskrift Tak" die. Teksten Tak har fået fine prikker lavet med en embossing folder.
Den stemplede tekst er skabt ved at kombinere to stempeltekster fra Gittes Eget Design stempelsættet "Tak".
Kreative hilsner,
Pia