Kender i det, at blive spurgt om man vil lave et kort med meget specielle krav? Det er både meget besværligt men også en god udfordring.
Her var kravene – Heks, guitar og mørkegrønt. Puha. Jeg har ikke ret meget Halloween for vi fejrer det ikke så har aldrig haft brug for materialer til det. Så ingen Heks. Men så er det godt vi har Google. Var så heldig at finde et billede med en Heks i mørk grønne farver.
Jeg valgte at lave et slimeline kort  – jeg har brugt die fra Simple and Basic til papiret. Hullerne i papiret er lavet med die fra Cherry Lynn. Papiret er fra Paper Favourites – scratched metal.
Bogstaver er dies fra Tim Holtz og guitaren er fra  Leane Creatif. Tillykke er fra Dan Dies. Bogstaver og stjerne er lavet i en kontrast farve. Og så er der kommet klare enamel dots fra Simple and Basic på.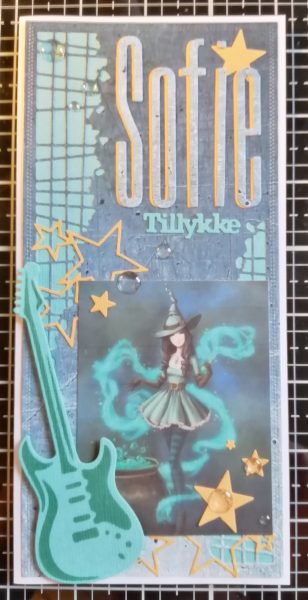 Tak fordi du kiggede med
Else