Dagens kort er meget enkle, hvilket er lige noget for mig. Inspiration er også noget som er lige mig (og mange andre) og denne gang kan jeg derfor ikke tage æren for dagens inspiration. Mit kort er liftet af nogle donerede kort til Operation Skriv Hjem fra Jean Rasmussen. Da jeg så hendes kort, kom jeg i tanke om mit nye køb af Spellbinders Delicate Butterflies. Det var bare perfekt til nogle lignende kort. Så jeg gik fluks i gang med at lave min egen version.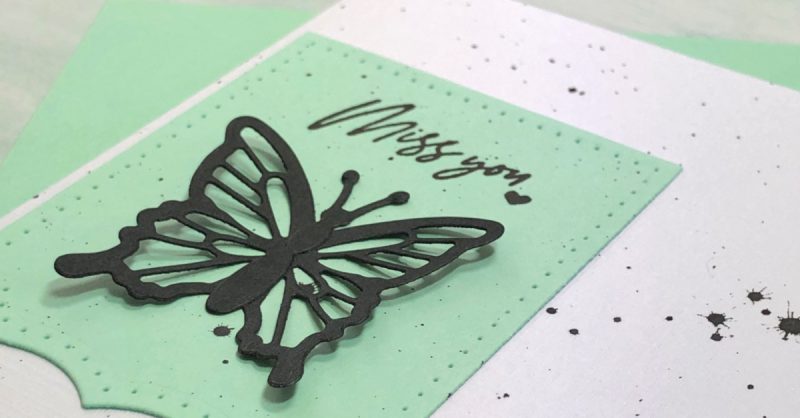 Mit kort er ikke 100% ens med Jean Rasmussens og det behøver det jo heller ikke være. Det fede er at trække på den inspiration man får og skabe sit eget twist med de produkter man nu lige selv har. Jeg er stor fortaler af at kigge i sit eget scrap stash og tjekke om ikke der er noget man kan bruge i stedet for fluks at bruge penge på nye ting. For mig handler det ikke om at shoppe, men om at skabe. Derudover kan det med fordel udfordre ens kreativitet, samt være med til at man gen-opdager nogle ting i sit stash, som man måske havde glemt var der.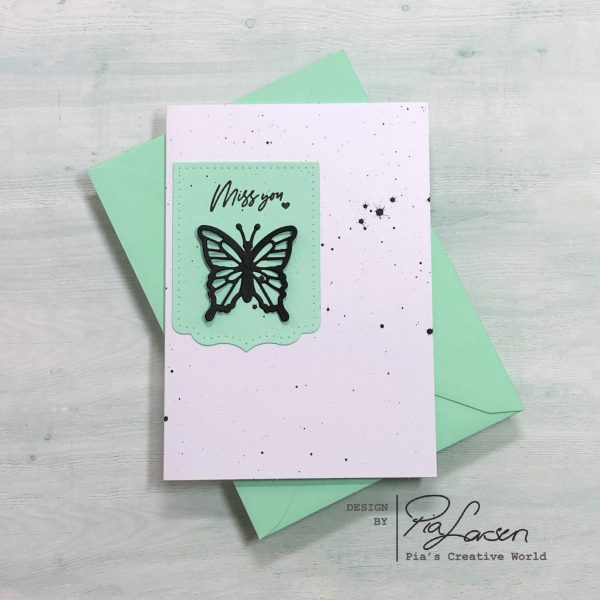 Jeg har brugt PinkFresh Studios Ornate Banner til base for sommerfuglen og teksten. Banner dien er det eneste som "fylder" på kortet, hvorfor det er meget enkelt i sit udtryk. Denne type kort falder under betegnelsen CAS, som står for Clean And Simple. En grundlæggende ting er, at der er masser af White Space, altså masser af luft på kortet.
Den stemplede tekst er fra PinkFresh Studios Beautiful Blooms stempelsættet.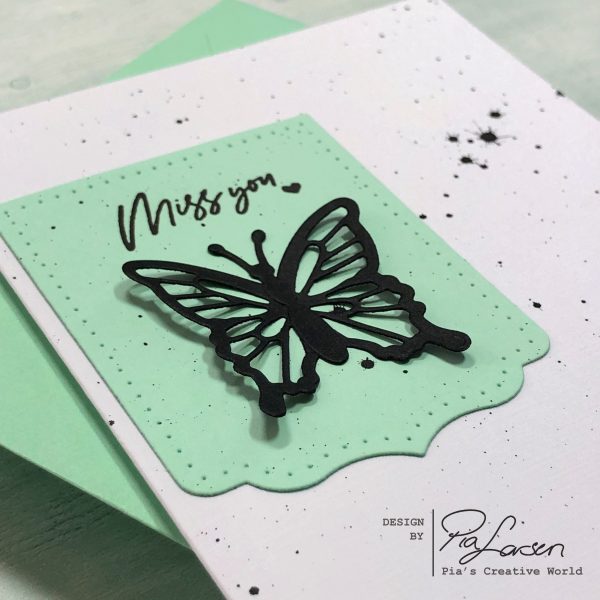 Jeg har valgt kun at lime mine Delicate Butterflies på ved kroppen, således at vingerne kan løftes lidt op.
For at skabe lidt mere spræl på kortet har jeg lavet lidt sort splatter. Dette gjorde jeg for at binde den sorte sommerfugl og sorte tekst sammen med resten af kortet. Jeg kunne sagtens have undladt at pynte med sort splatter, men lysten kom over mig.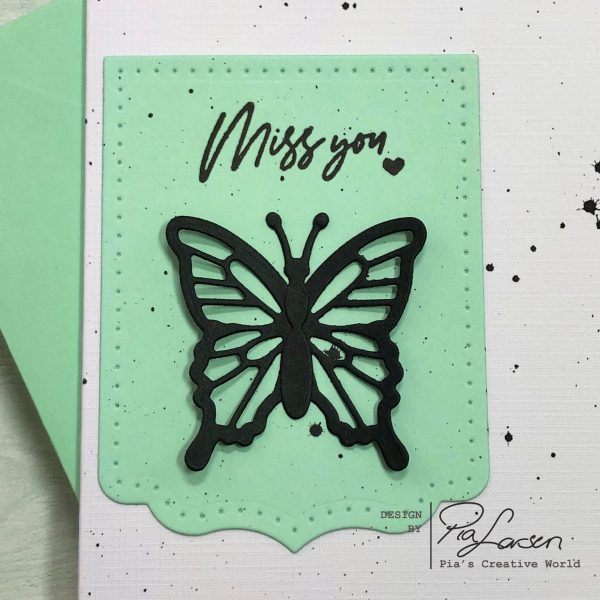 Kreative hilsner,
Pia