Jeg har hygget mig med det populære Be Bold Blooms diesæt fra Spellbinders. Egentlig startede det hele med at jeg ønskede at få brugt en stump stribet designpapir og vupti, så udviklede projektet sig. Kender du også til det?

Jeg havde denne rest stribet gult designpapir, som skreg på at blive brugt. Nu er jeg ikke super vild med de gule toner, hvorfor dette absolut var en udfordring for mig.
Min plan til at starte med var blot at lave blomsterne i gule og orange toner. Men det fungerede bare ikke.
For ikke længe siden fik jeg købt mig det populære Spellbinders Be Bold Blooms diesæt og ønskede at lege mere med det.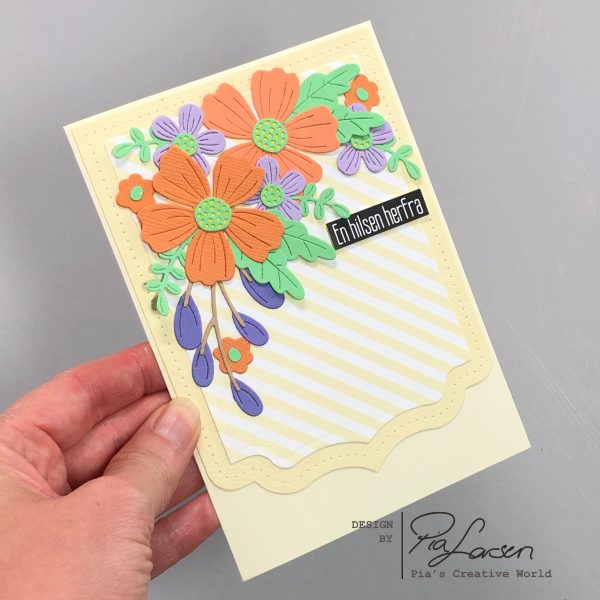 Jeg fandt derfor mit farvehjul frem. Det er en Color Computer af M. Grumbacher Inc, som jeg i tidernes morgen har snuppet fra min mor. Undskyld mor, hvis du læser dette. Så er det bare mig, som har langtidslånt dit farvehjul.
Når jeg på mit farvehjul valgte gul som min hovedfarve, får jeg at se hvorledes orange og grøn er Analogous Harmonies farver. Dertil er farven lila den direkte Complementary Harmonies farve.
Med det resultat gik jeg fluks igang med at lave blomster i orange og lila nuancer, samt blade og kviste i grønne toner.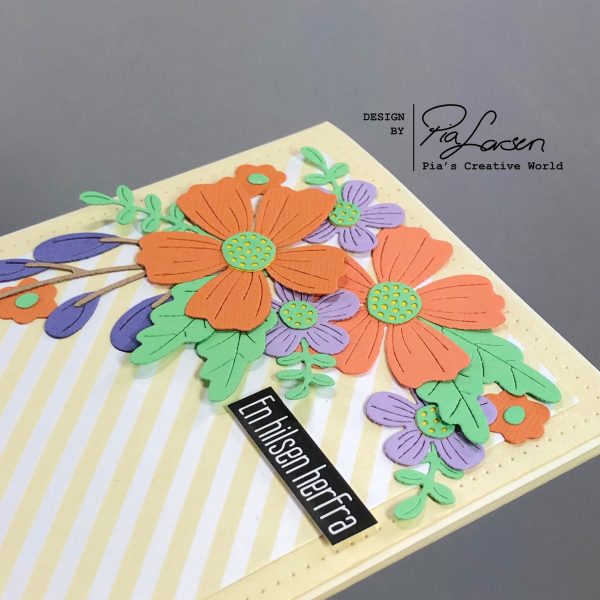 Baggrunden med det stribede gule designpapir og dens gule matte har jeg lavet med PinkFresh Studio Ornate Banner diesættet. Dette sæt er jeg meget glad for lige pt og bruger det flittigt til mange af mine kort.
Den sorte tekst er fra et tekstark fra NHH Design.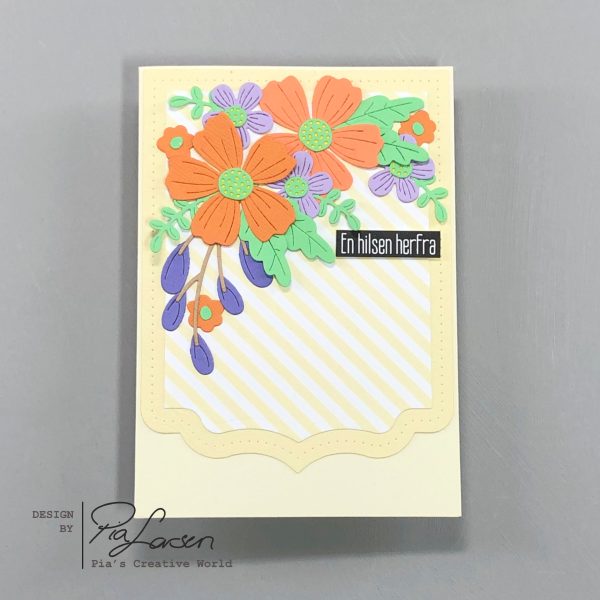 Og nu kommer vi til Halloween delen! For i bund og grund er dette kort lavet i Halloween farverne: Orange, Lila, Grøn og Sort. De klassiske Halloween farver, som i denne omgang er blevet til et skønt blomsterkort. Et blomsterkort som absolut intet har med Halloween at gøre 🙂
Kreative hilsner,
Pia