Prima kurset skulle oprindeligt have været med Finnabair (polske Anna Dabrowska), men pga. en sygemelding blev hun erstattet af Riikka Koovasin fra Finland. Og hun gjorde det heldigvis rigtig godt.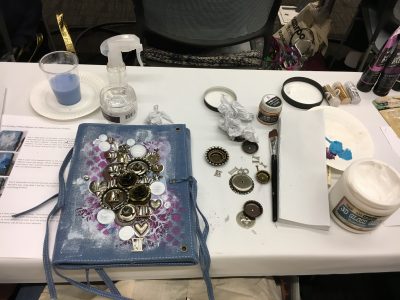 Vi skulle dekorere et notesbog-omslag i denim (cowboystof), og der blev virkelig gået til den med maling og medier, pynt og dimser, farver og glimmer.
Vi startede med gesso og bagefter forskellige farver maling, for at "grunde lærredet".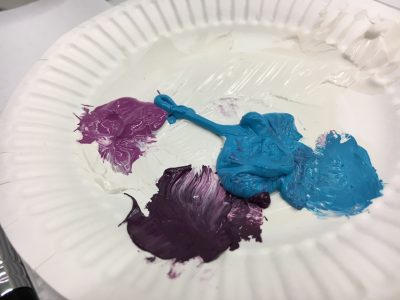 Herefter skulle der dekoreres med stencils.
Vel vidende at det meste bliver dækket til igen, så sidder man alligevel og forsøger at få det så pænt som muligt.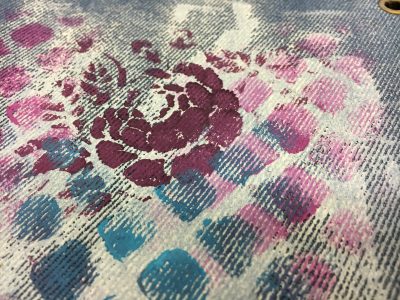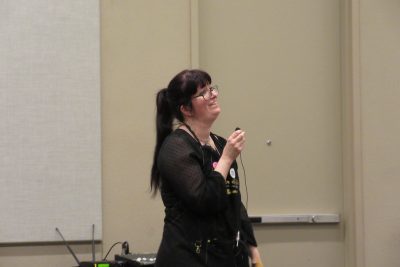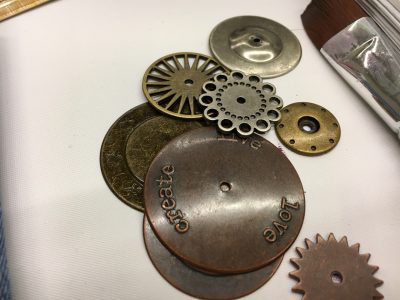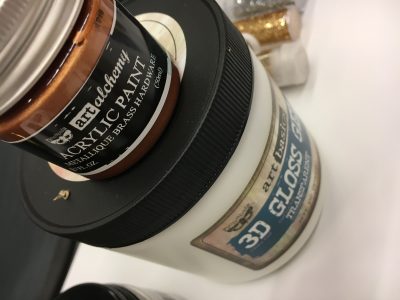 Pynten på forsiden blev bygget op med masser af små dimser og dingenoter i metal (det, som Prima plejer at kalde "Trinkets" i deres produktserier, og som betyder noget i retning af "nipsgenstande", når man oversætter til dansk).
Vi brugte 3D Gloss Gel, som er supergod til at få de store og lidt kluntede ting til at blive hængende.
Det letterste var at bruge fingrene til limen, så man blev fedtet godt ind.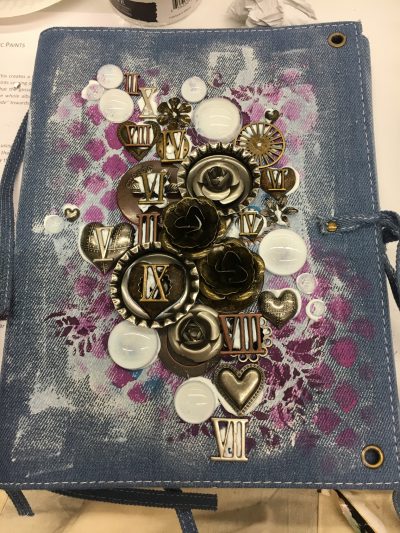 Der skulle virkelig bygges mange lag, og igen må man leve med at mange af de fine ting bliver dækket mere eller mindre over igen. Men hvis ikke man gjorde det, så ville motivet jo ikke blive så højt  –  og det er netop den dimension, der gør resultatet så lækkert.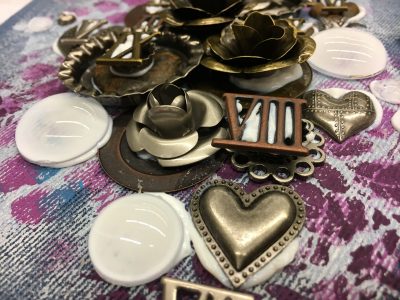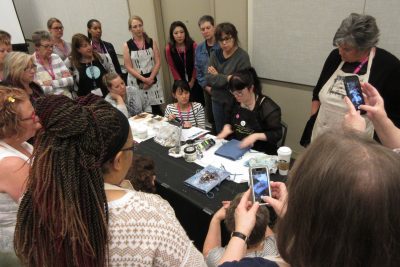 Til allersidst brugte vi forskellige Metallique malinger og Wax produkter OG løs glimmer, som blev drysset over.
Det gav lige den sidste finish til projektet!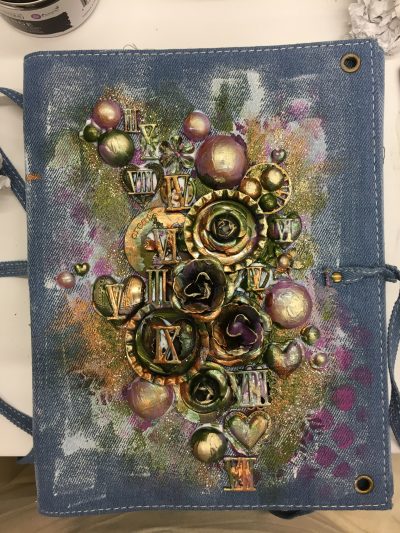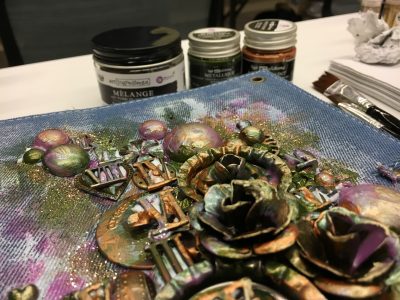 Prima-kurset var en supergod oplevelse  –  og det var rigtig sjovt at få love til at lege med SÅ meget metalpynt og farver på én gang.
Når man sidder på sådan et kursus, så bliver man også hele tiden mere og mere modig. Herhjemme tror jeg aldrig, at jeg ville have fundet på at blande kobberfarvet, grøn og lilla  –  på en baggrund af cowboy-bukse-blå!