Selv om Corona har lagt sin klamme hånd på vores verden og hverdag og der er mange restriktioner for hvad vi må og ikke må, især i forhold til at mødes og holde fester, så stopper det os heldigvis ikke i at lave nogle lækre og flotte kort, der kan bruges til en hilsen til nogle af de begivenheder, der ikke bliver fejret som de skulle have været.
En kollega skulle bruge et kort til et kobberbryllup, den store fest er aflyst, men kobberbrudeparret skal ikke snydes for et kort og en hilsen.
Kortet er lavet på en hvid base i str. 10*20.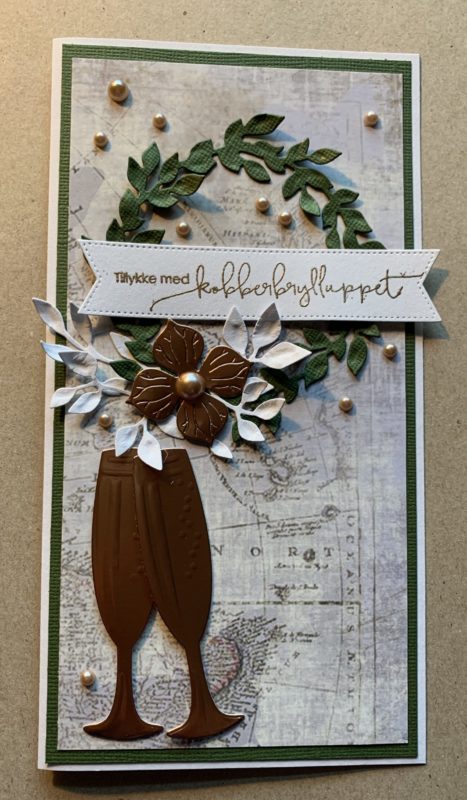 Ovenpå basen er sat et stykke mørkegrøn ensfarvet karton og et stykke mønsterpapir.
I det grønne karton er der også skåret en bladranke med die fra NHH. Der udover er der skåret et par grene i hvidt karton og en enkelt blomst i kobberfarvet karton.
På et hvidt banner er der embosset tekst med kobberfarvet embossingpulver.
De to champagneglad er lavet med die fra Marianne Design, som er skåret ud i kobberfarvet karton.
Til sidst er pyntet med lidt halvperler.
Detaljer: