Der går vist næsten aldrig et år, uden at mindst én af papirproducenterne kommer med en serie med maritime motiver.
Og i år er det så Graphic 45, der er kommet med en serie med superlækre papirer i marineblå, rød, hvid og beige.
Serien hedder Catch of the Day.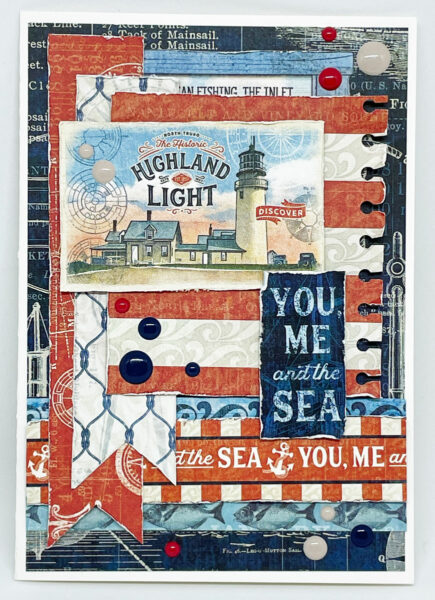 Det øverste kort stammer fra en udfordring fra en af butikkerne til Convention, hvor opgaven lød på at lave et kort med mange lag  –  mindst 4.
Jeg har krattet lidt i kanterne på udskæringerne, og jeg har løftet en del af dem op med lidt skumtape, for at skabe dimension.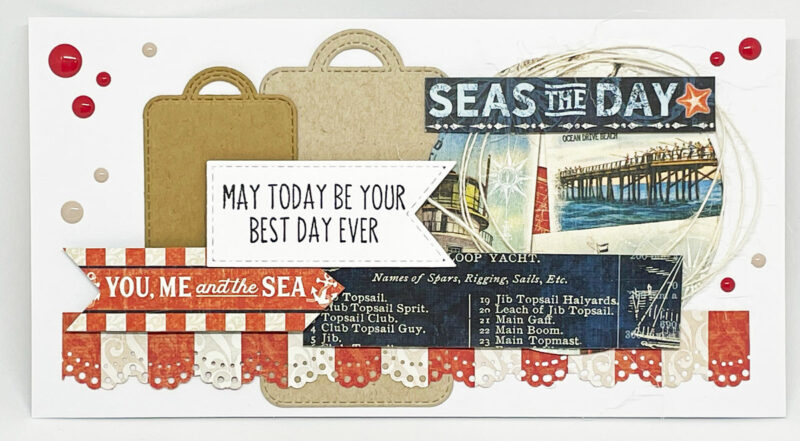 Kortet herover er også et bidrag til en udfordring fra en af butikkerne til Convention, og det er lavet ud fra en skitse, som egentlig var beregnet til et layout.
Så det var en god opgave, at skulle skabe et kort ud fra skitsen i stedet.
Papiret er fra samme blok fra Graphic 45.
---
Og så skal I da også lige have billeder af det album, som vi skulle lave på en af vinterens online forhandlerworkshops.
Det er et færdigt album fra Graphic 45, så det er supernemt at gå til, da albummet allerede ER lavet, men bare skal dekoreres. Og det er det blevet med mønsterpapirer og forskellige udklip fra designarkene.
Nu mangler jeg bare nogle passende fotos at sætte ind. Men mon ikke jeg kan finde nogle i mine gemmer?