De fleste kender nok det finske designfirma Marimekko og deres karakteristiske blomster.
Fran Seiford fra Stampendous kom fornylig op med en supergod idé til at bruge blomsterne fra die-sættet Floral Bouquet til at lave de skønneste blomster i Marimekko-stil.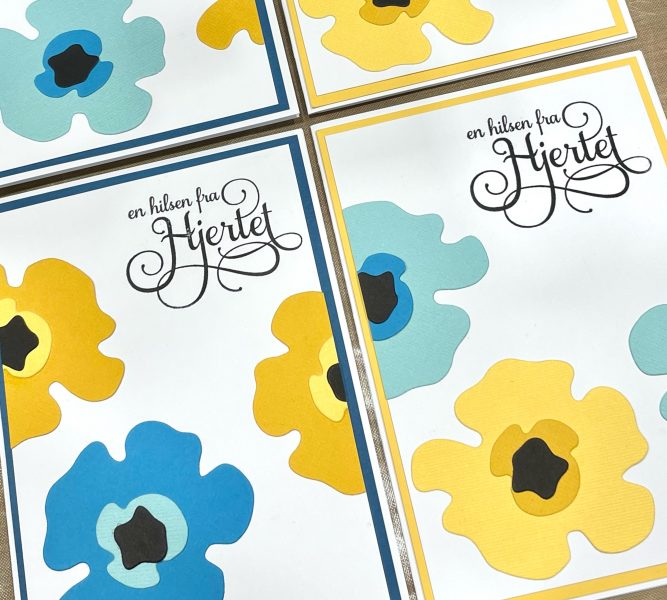 Jeg sad og lavede disse kort på Scrapbooking Convention, hvor alt overskud blev doneret til Røde Kors' indsamling til børn i Ukraine.
Så jeg blev inspireret til at lave blomsterne i Ukraines flags farver – blå og gul.
Kortbasen er en almindelig A6, og så har jeg lagt et lag farvet karton i en matchende farve og ovenpå dette et hvidt stykke, hvor jeg har stemplet teksten i hjørnet.
Stemplet er fra mit eget sæt Snirkler & Snørkler.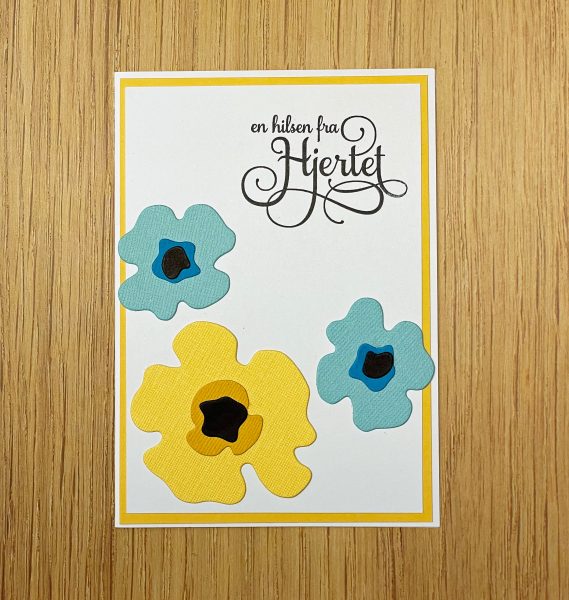 Når jeg sådan sidder og serie-producerer en række kort (det kan man jo ligeså godt, når nu man er i gang), så er det sjovt at sidde og pusle lidt med forskellige opsætninger og forskellige matte-farver (den farvede kant rundt om, som er kommet ved at lægge kartonen lag-på-lag, hvor den lige er en halv centimeter mindre på hver led).
På kortet herover, har jeg brugt én stor og to små, og ladet de to små blomster gå lidt udover kanten / matten.
Og på kortet herunder, valgte jeg at i stedet bruge to af de store blomster. Men den ene hapsede jeg over i guillotinen først (ikke lige på midten, men sådan cirka en tredjedel inde, så jeg lige fik lidt af den farvede midte med), og lagde herefter de to halvdele ud, så de flugtede kanten af det hvide karton.