Denne gang viser jeg en enkel masking teknik med brug af PostIt-tape og blender brushes. Til slut ender det med et flot et-lags kort i regnbues farver.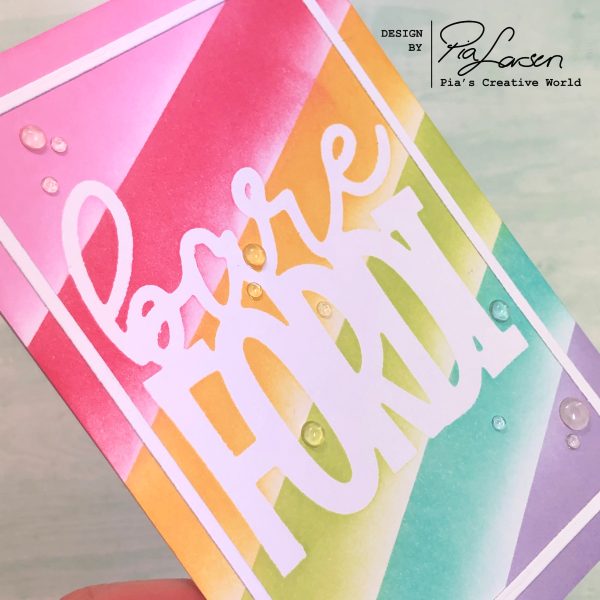 Step 1: 
Hav en kortbase eller et stykke karton på minimum 10,5 x 15 cm klar.
Find en stor tekst die og diecut den ud af et stykke rest-karton. Die-cut teksten skal vi bruge som maske. Her har jeg brugt "Frisk Font Bare Fordi" af Gittes Eget Design.
Put ikke-permanent (re-positionable) tape på bagsiden af die-cut teksten. Dette sikrer at den ikke rykker rundt på sig, mens vi laver blending baggrunden, samt at den er til at fjerne igen uden at kartonet tager skade.
Placér din die-cut tekst på kortbasen / karton stykket hvor du ønsker det skal være.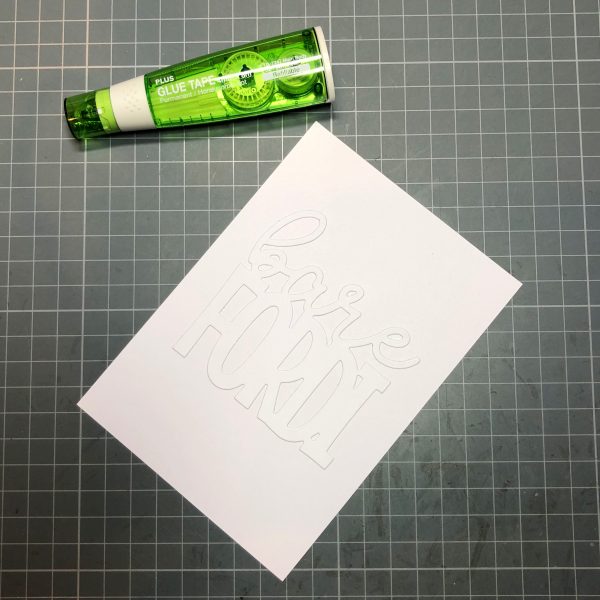 Step 2: 
Brug PostIt-Tape som masking værktøj. Her kan f.ek.s bruges Heffy Doodle Memo Tape. Til at blende mine sværter bruger jeg Tayolored Expressions Blender Brushes.
Jeg har udvalgt 6 dye-ink sværter til at skabe min regnskab:
Passion Flower – Hero Arts Shadow Ink
Tide Pool – Hero Arts Shadow Ink
Lime Green – Hero Arts Shadow Ink
Butter Bar – Hero Arts Shadow Ink
Pale Tomato – Hero Arts Shadow Ink
Bubblegum Pink – Gina K. Designs
Selvom billedet ikke viser det, så bruger jeg 2 strips af Post-It tape, når jeg skal blende en stribe. Dette er for ikke at få blendet næste farve oveni farven ved siden af.
Jeg sørger for at min blending bliver kraftigere i farve-påføringen i den øvre del af mine farvestriber. Det synes jeg giver et mere levende look.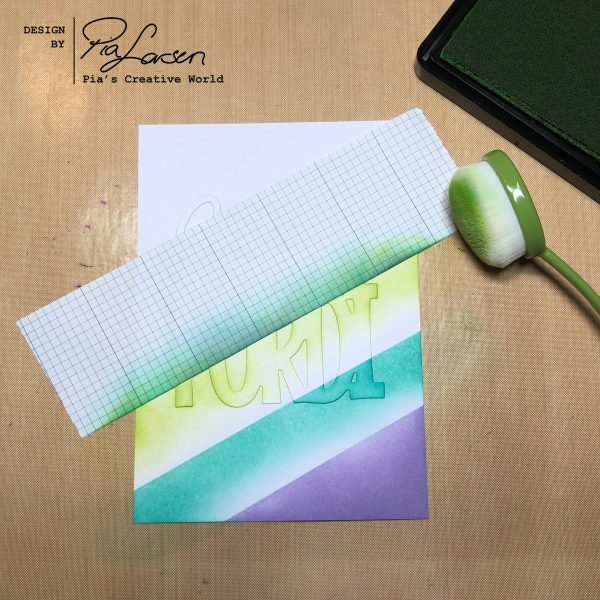 Nedenfor ser I det færdige resultat af regnbue blendingen af baggrunden.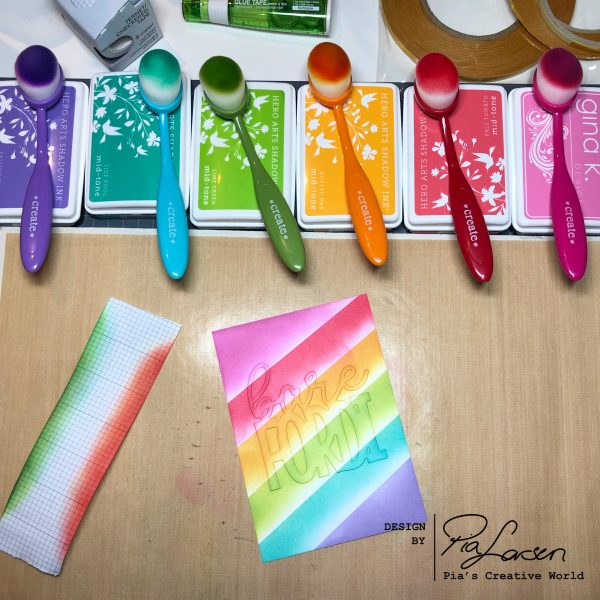 Step 3:
Fjern forsigtigt die-cut teksten, som vi har brugt som maske. Jeg bruger typisk spidsen af min skalpel til lige at få fat på kanten. Andet spidst kan selvfølgelig også bruges.
Min re-positionable tape efterlader små lim dutter hist og pist. Dem kan jeg nemt fjerne ved at nulre mine fingerspidser henover dem og børste dem væk fra kortet.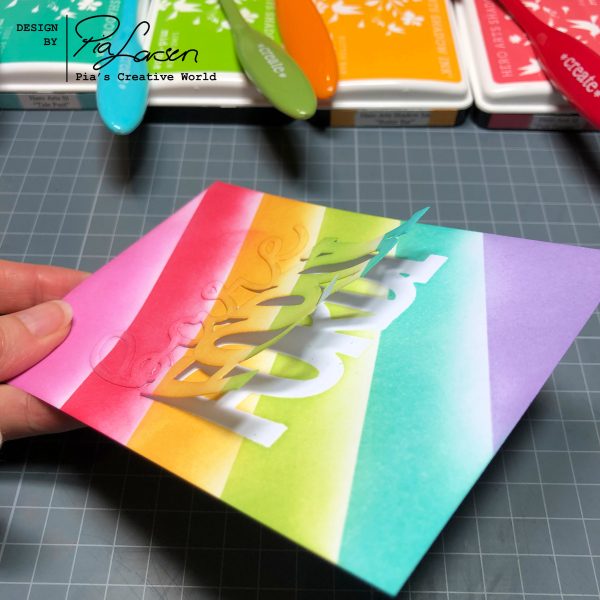 Step 4: 
Nu er vi klar til at pynte kortet og få det helt færdigt.
Reelt set kunne jeg godt have stoppet her og ladet kortet være som det er. Da jeg har arbejdet direkte på min kortbase, er dette et One-Layer-Card. På dansk kaldet Et-Lags-Kort.
Min tekst die-cut kan også snildt bruges til et andet kort, så jeg reelt set har fået 2 kort for 1!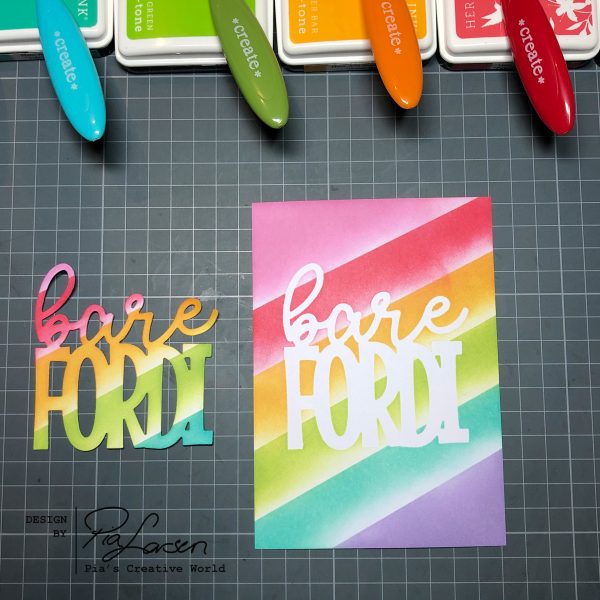 Step 5: 
Jeg har givet kortet en fin ramme med brug af Heffy Doodle "Skinny Metric Rectangle Frames" og pyntet med The Stamp Market "Droplets".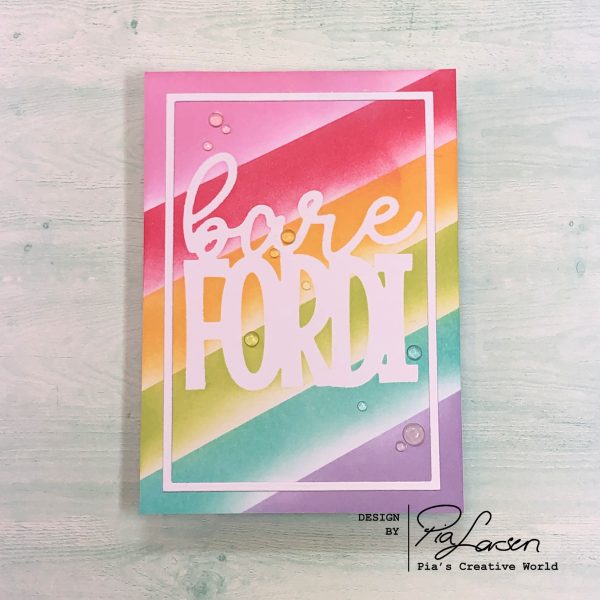 Kreative hilsner,
Pia