Hvis man kaster sig over teknikken Inlaid Diecutting, kan det godt betale sig at tænke lidt strategisk. Gør man det, kan man nemlig få bonus kort ud af processen. Mit kort i dag er netop sådan et bonus kort. Ved at være bevidst om min diecutting til mit Inlaid Diecutting kort (det oprindelige projekt), kunne jeg skabe baggrunden til dette kort. Vupti, to fluer med et smæk!

Til mit oprindelig projekt skulle jeg bruge ekstra bogstaver til ordet Tillykke – hele 5 gange diecutting skulle jeg bruge. Ved at placere min Tillykke die præcist og lige på mit kartonstykke, stod jeg til slut med en lækker baggrund. Jeg har dog bevidst forskubbet teksten lidt for hvert diecut. Det tænkte jeg ville skabe lidt mere liv på baggrunden. Du kan se mit oprindelige projekt HER.
Til baggrunden har jeg brugt Simple and Basic dien Text Plate Tillykke. Til min kortfront – det lilla stykke karton – har jeg brugt mit ynglings nested die sæt – Create A Smile Double Stitched Rectangles, som passer perfekt til A6 kort. Jeg er kæmpe fan af stitched kanter på diecuts og jeg elsker, når disse er ens, perfekte og tydelige.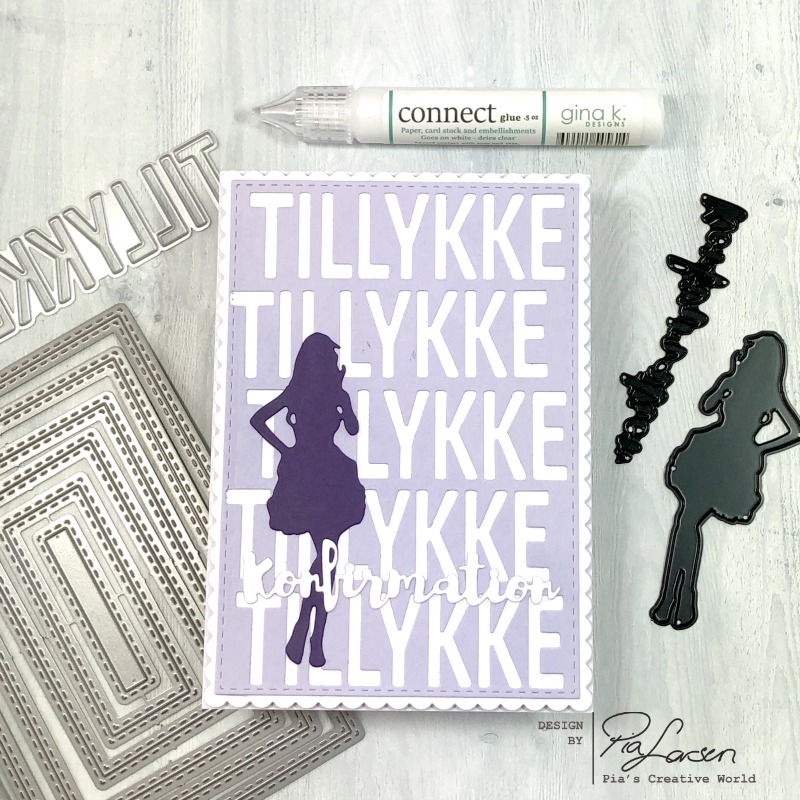 Jeps, dette er et konfirmationskort, så jeg er vist en smule sen på den – eller bare ude i ekstra god tid! Men netop denne bonus-teknik kan man bruge til alle typer kort.
For at gøre mit kort lidt mere tøset, har jeg monteret min kortfront på en hvid matte med scallop kant. Den fine mørkelila pige og tekst dien Konfirmation er fra Dixie Craft.
Til kortet har jeg brugt Dixie Craft Konfirmation.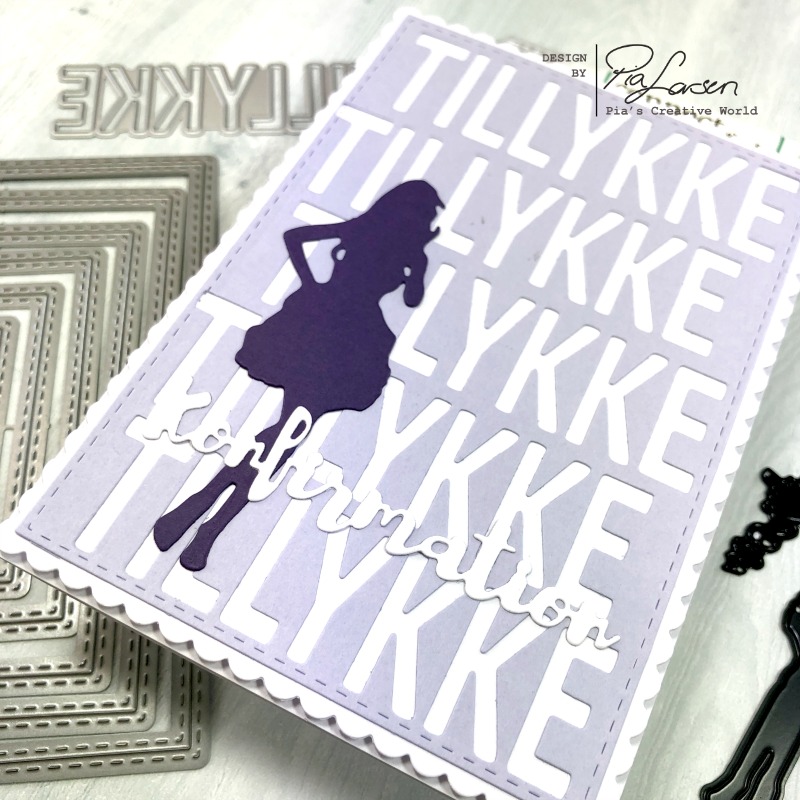 Kreative hilsner,
Pia
Pssst, for mere "forsinket" Konfirmations inspiration eller spændende teknikker, så kig med her nedenfor: